The Surrealism Website
Leonora Carrington (1917 - 2011)


---
---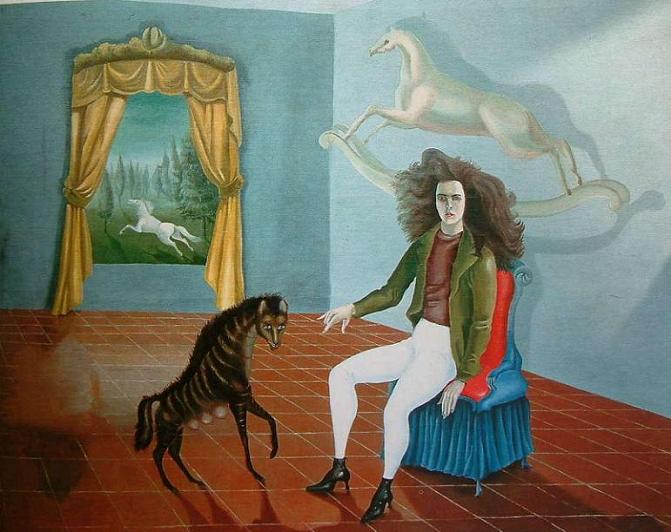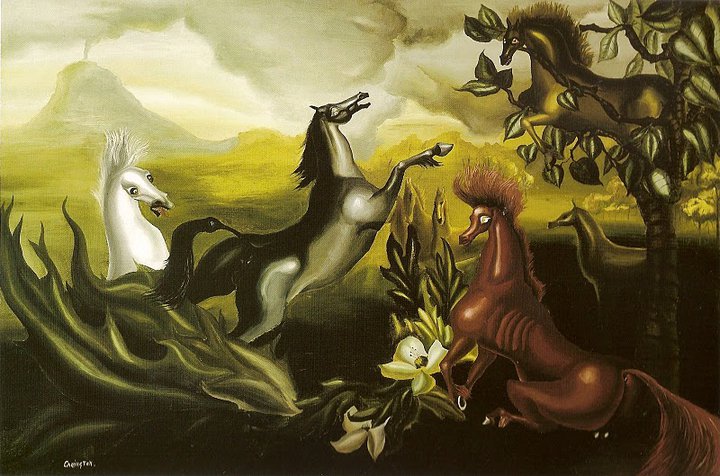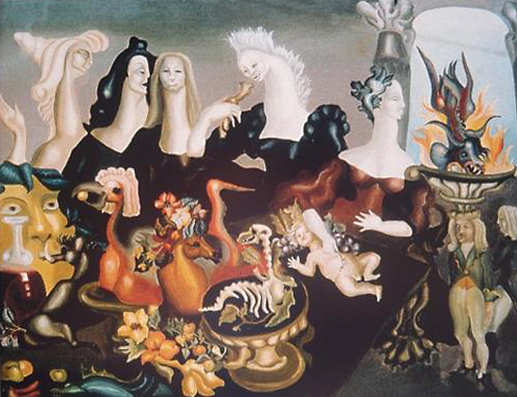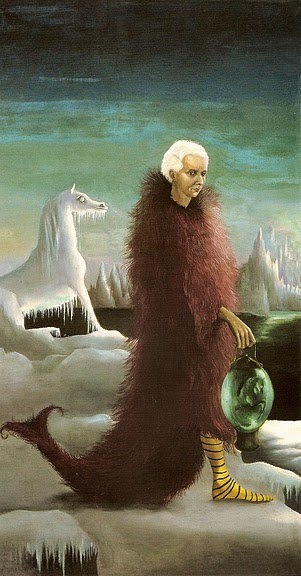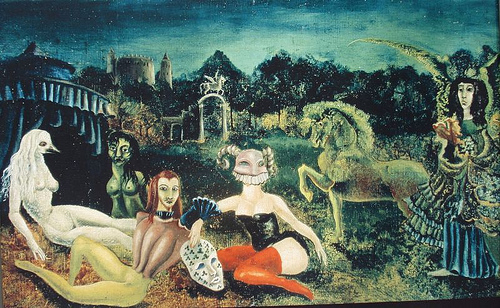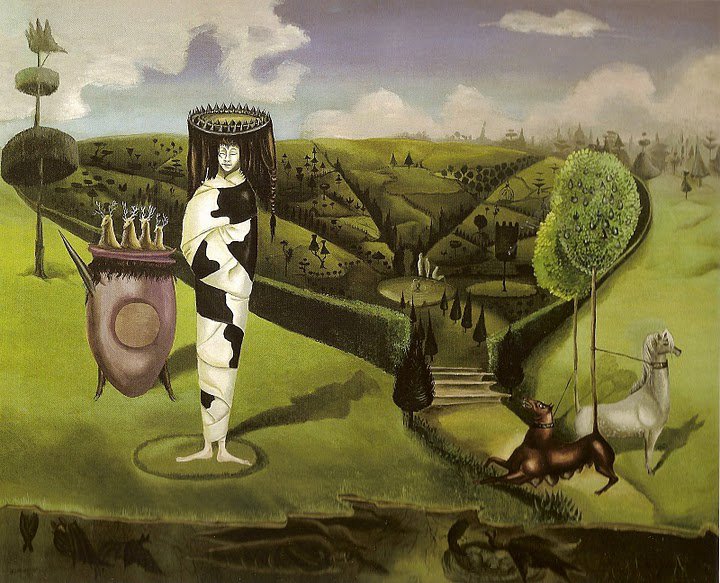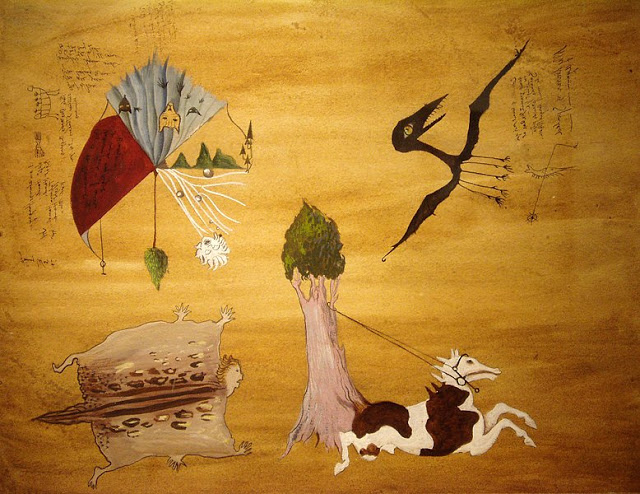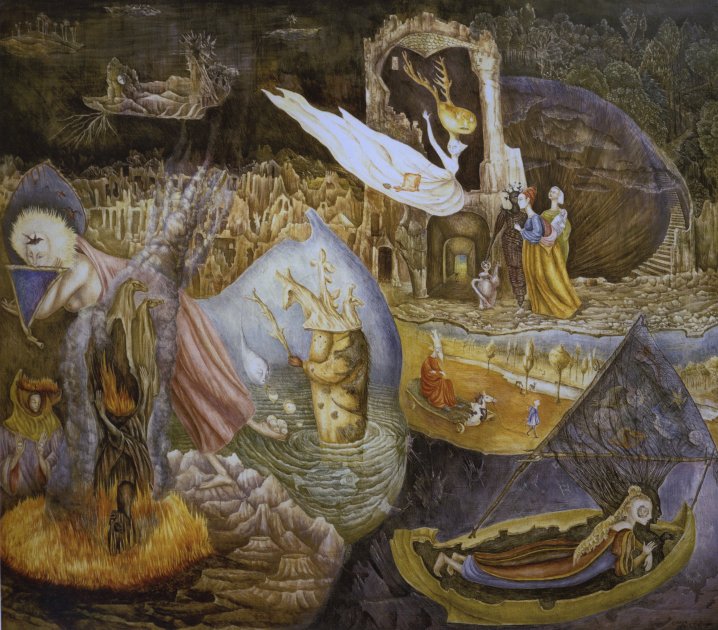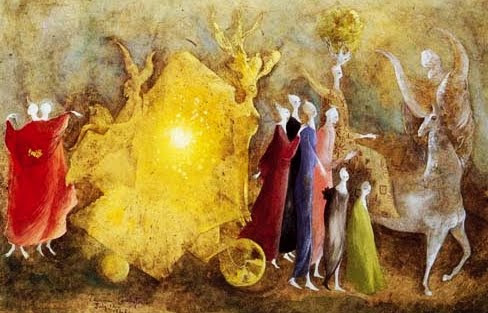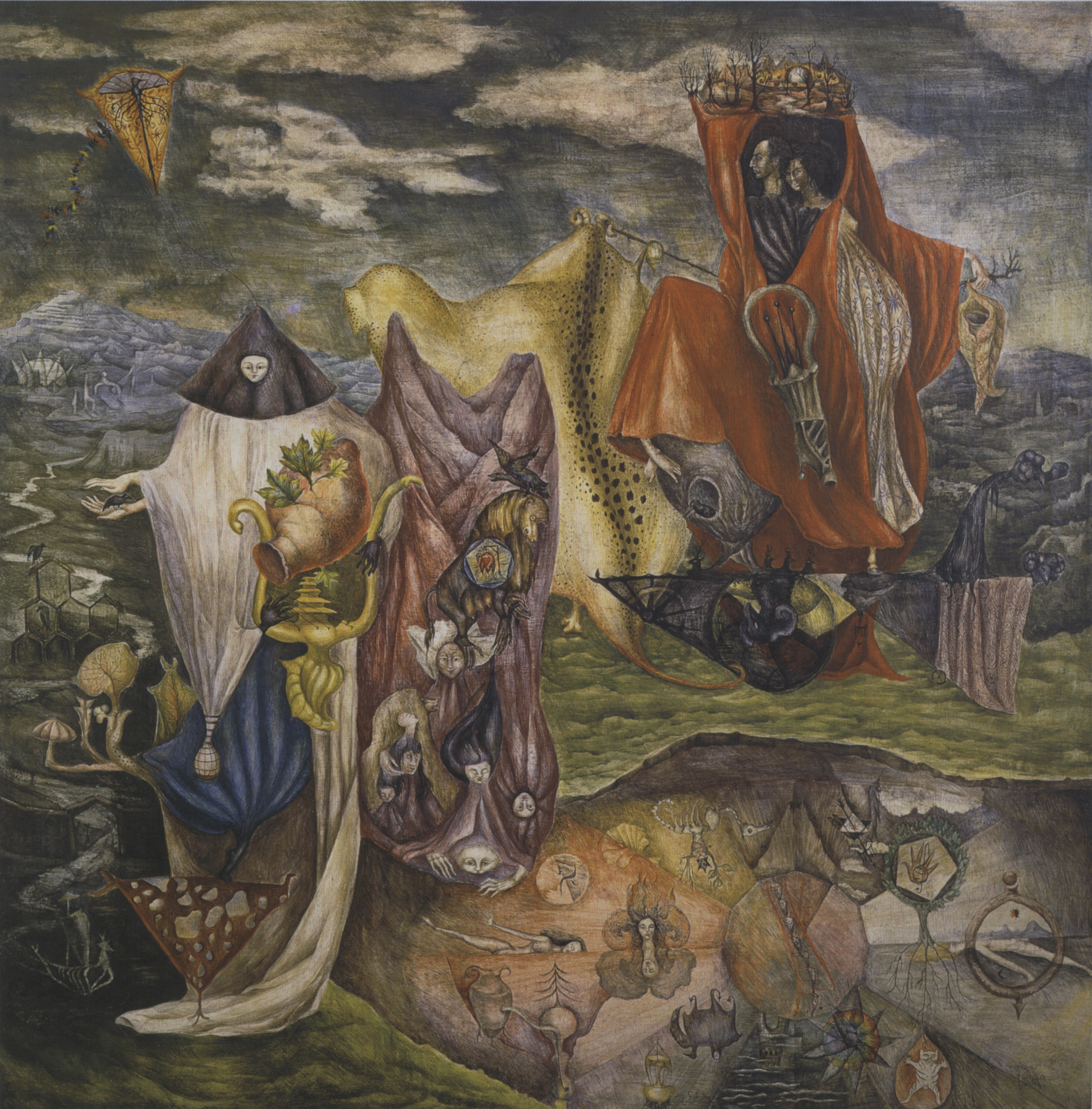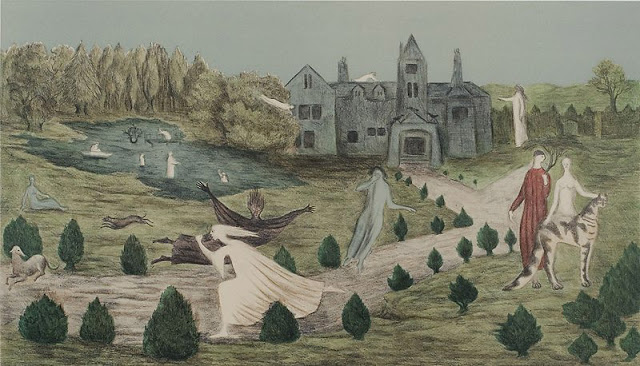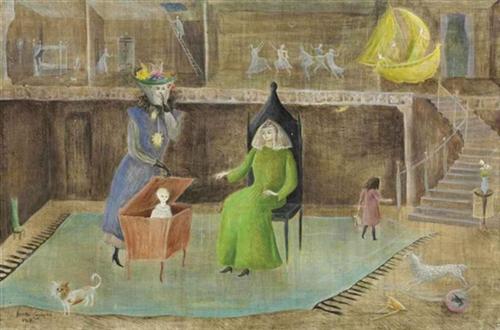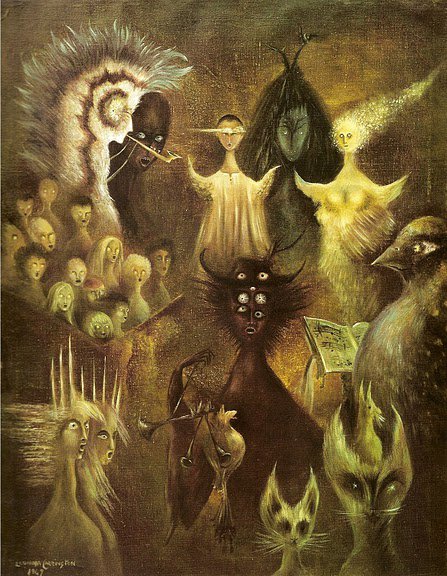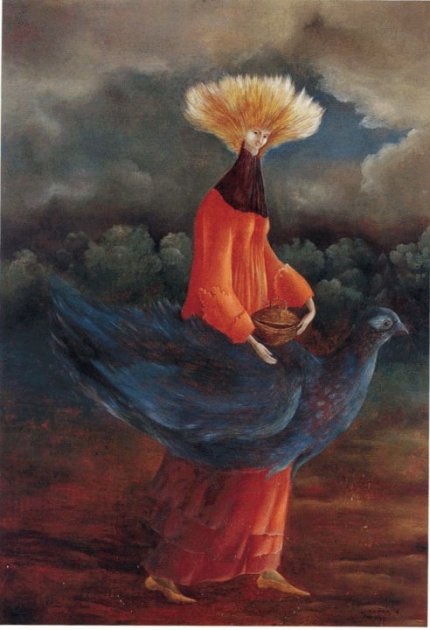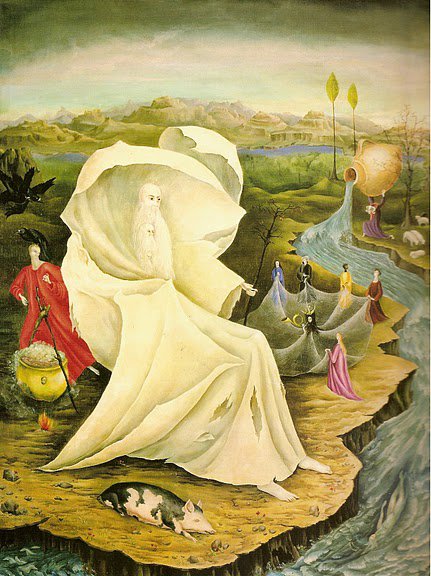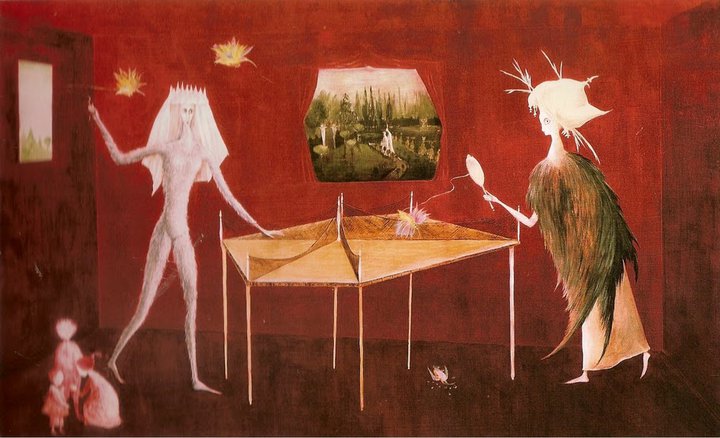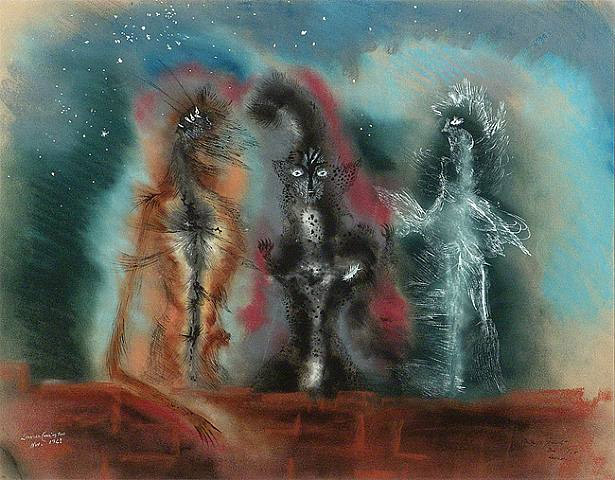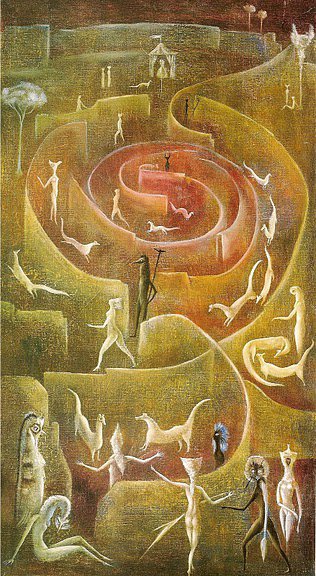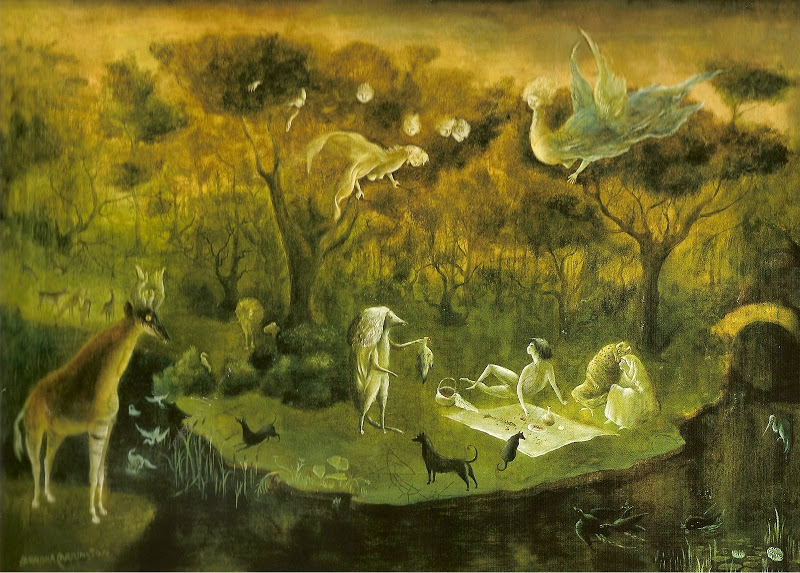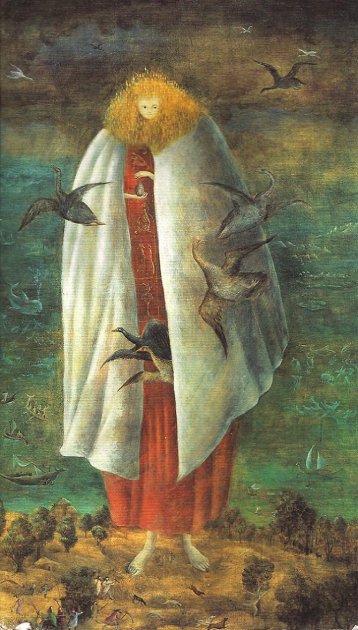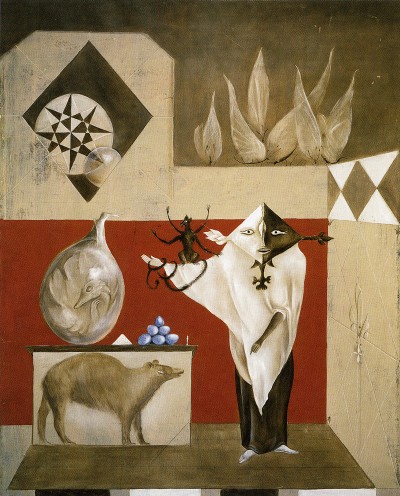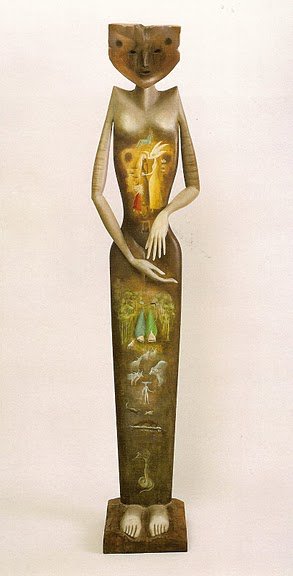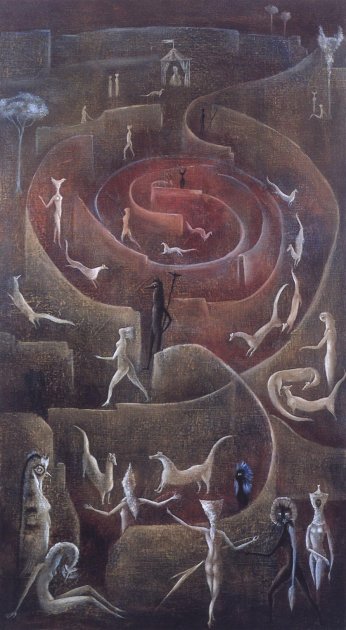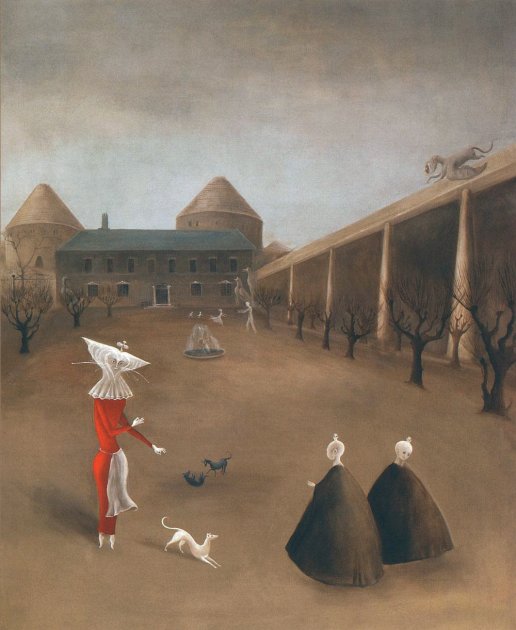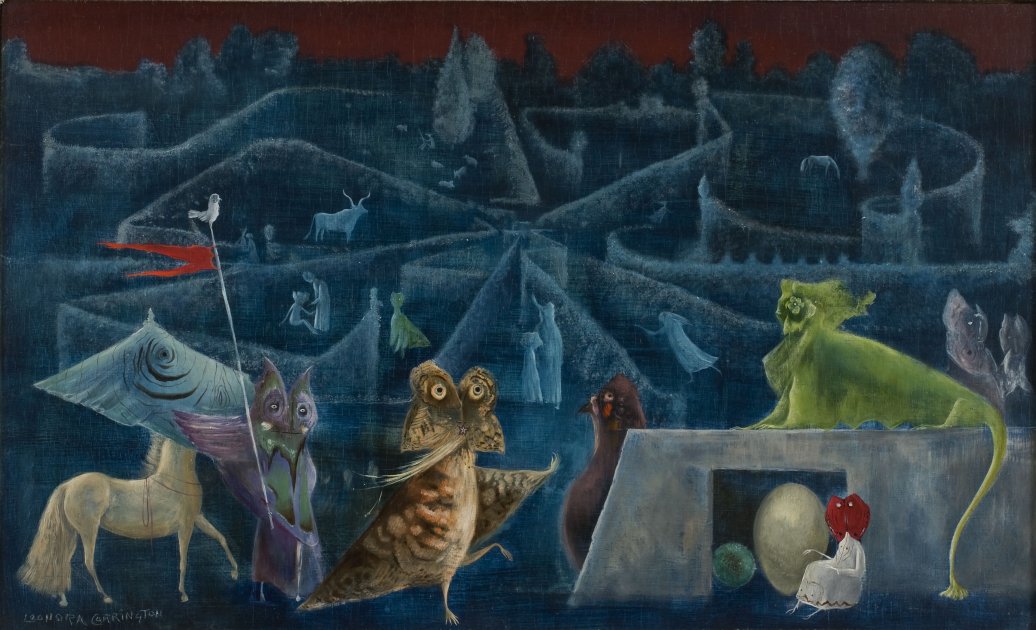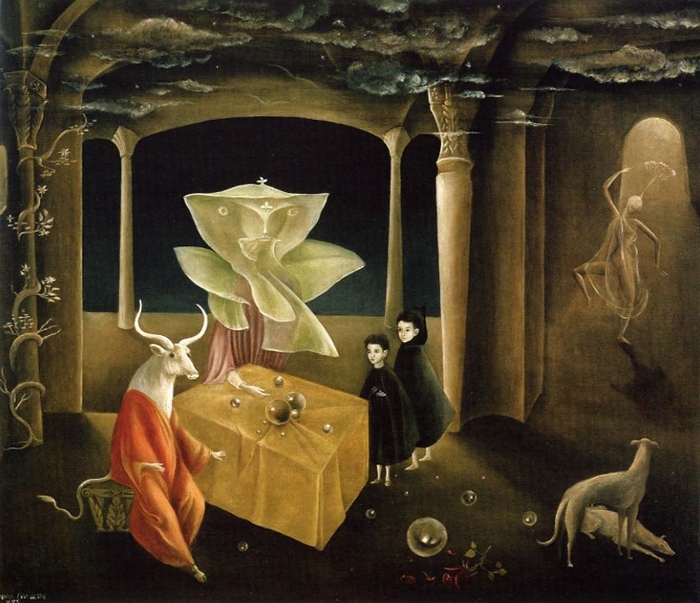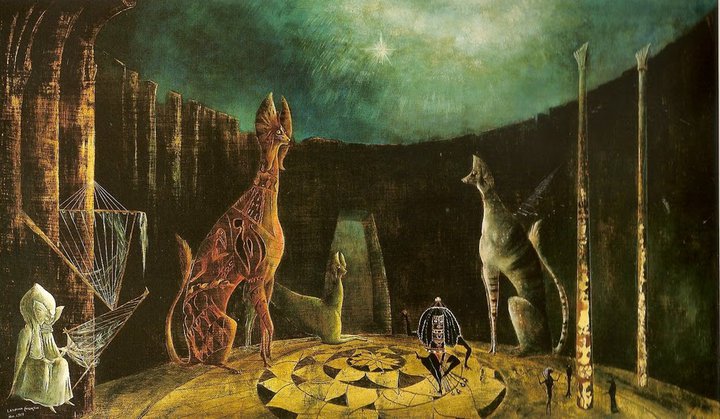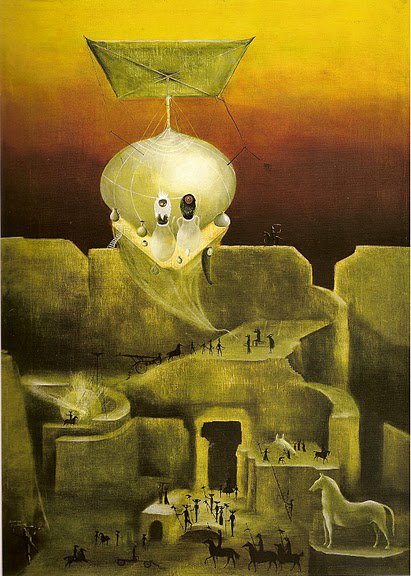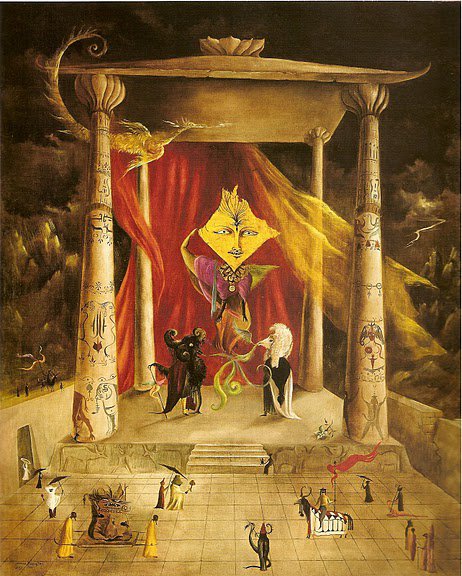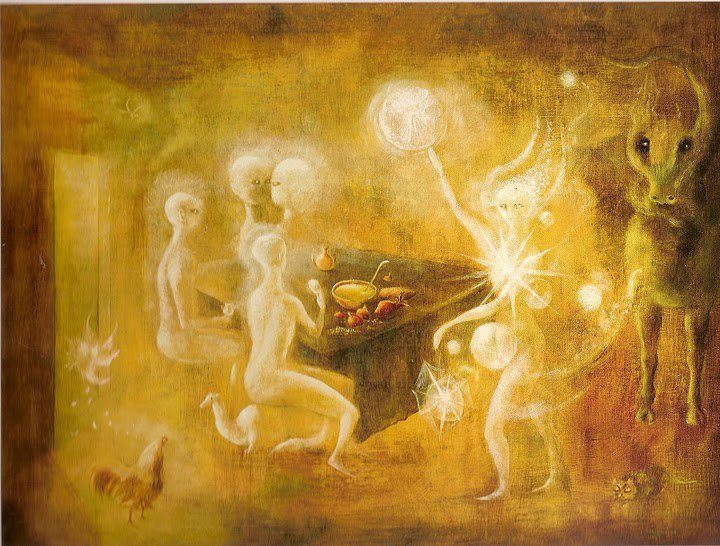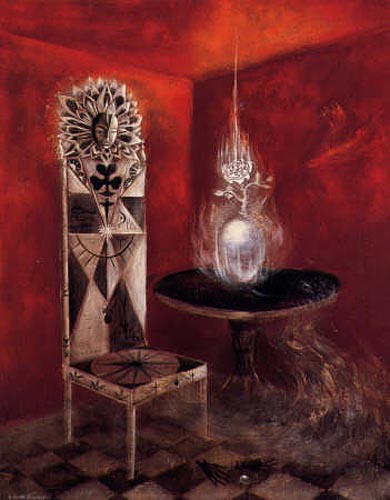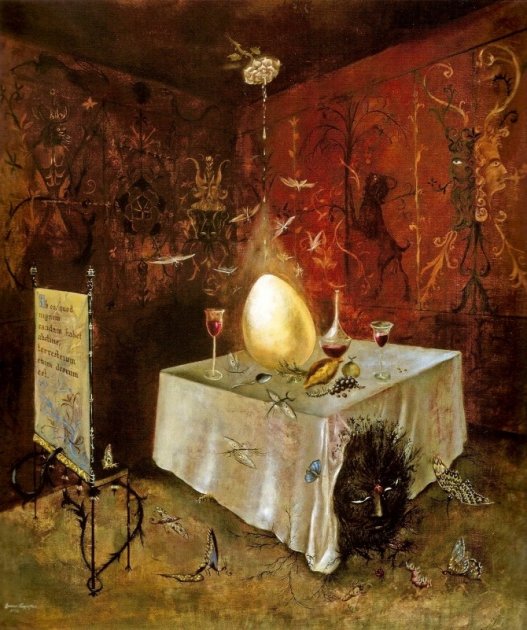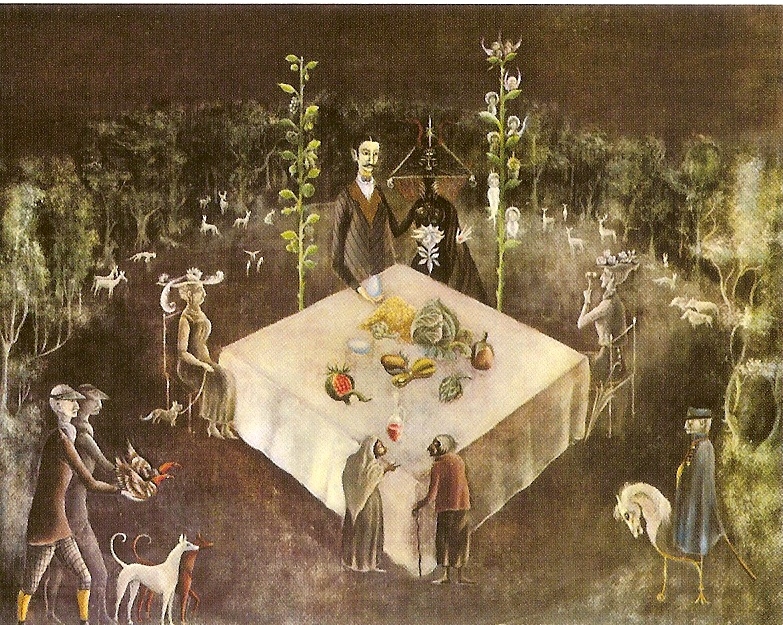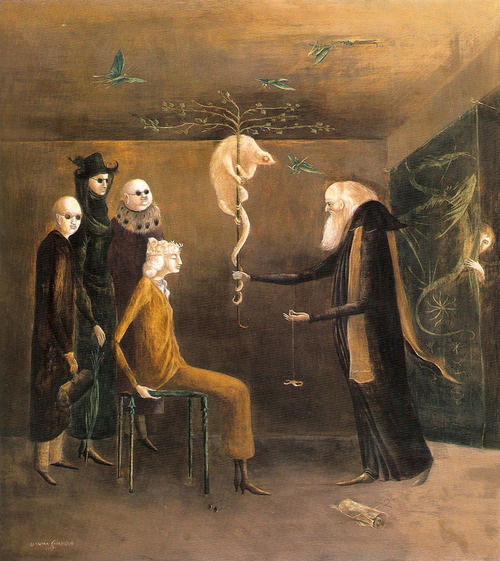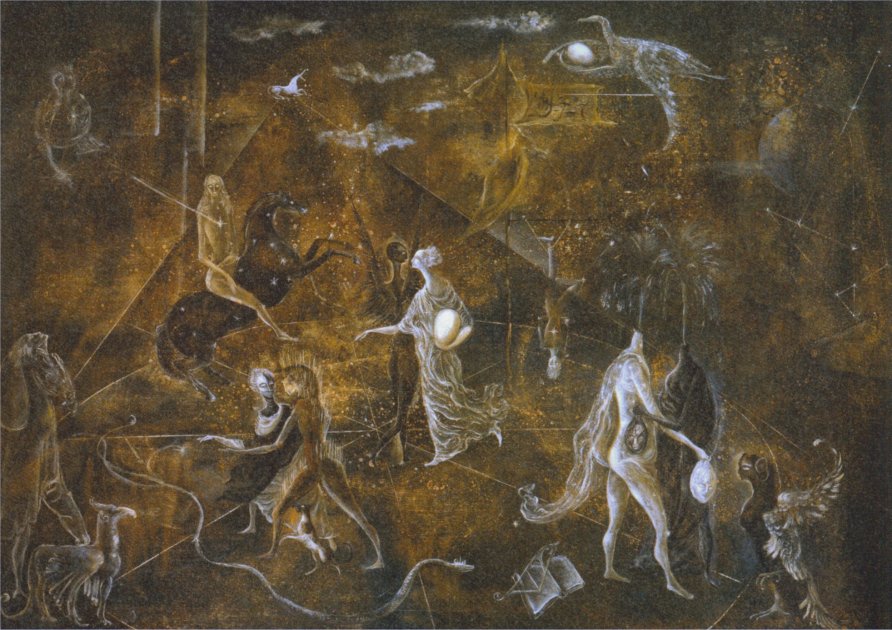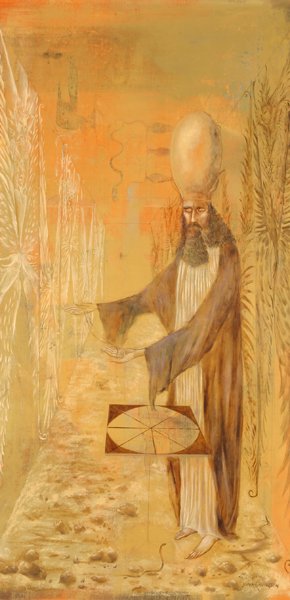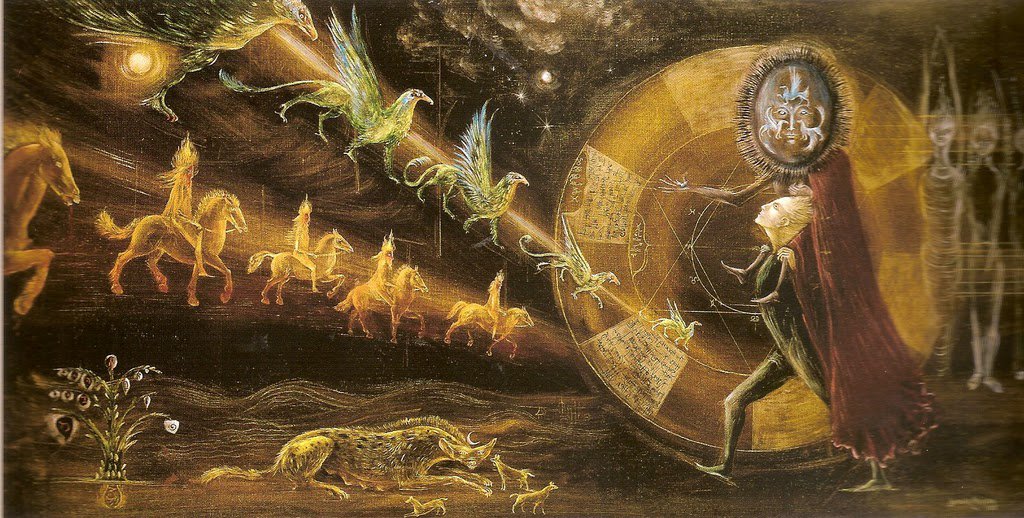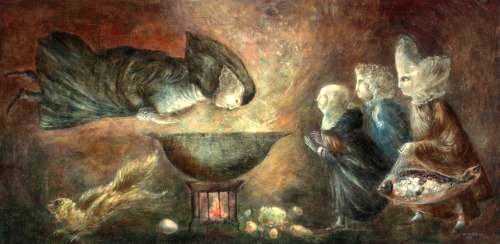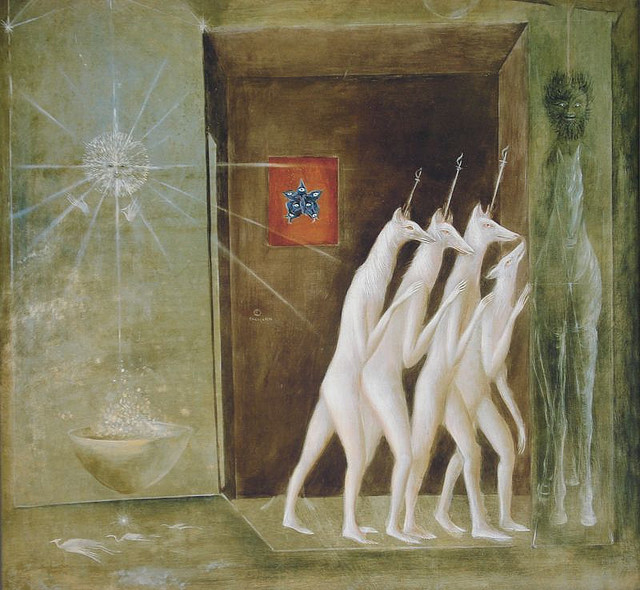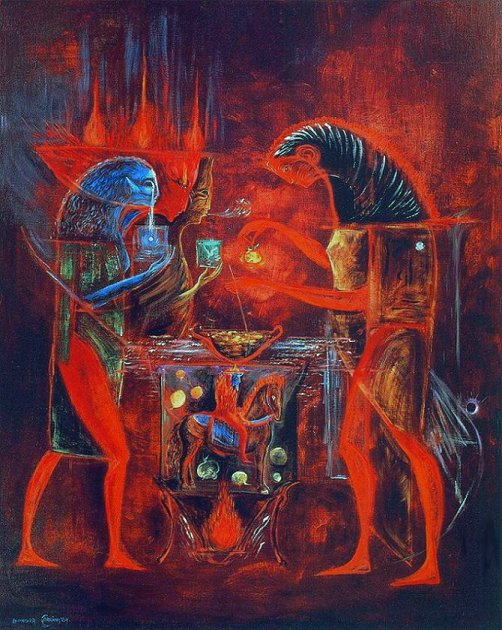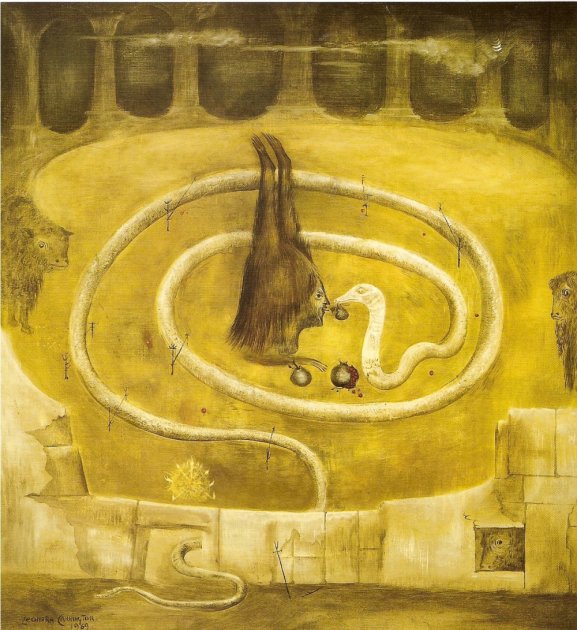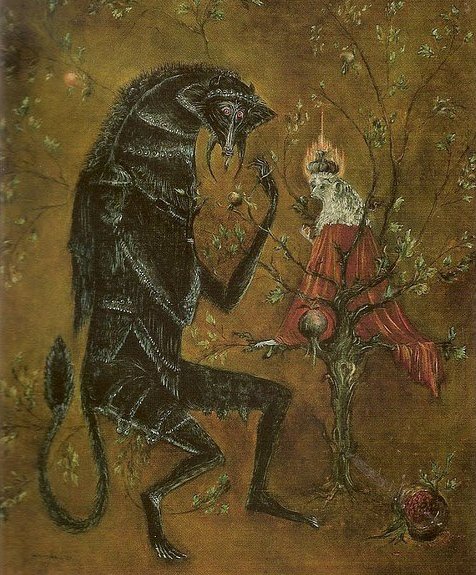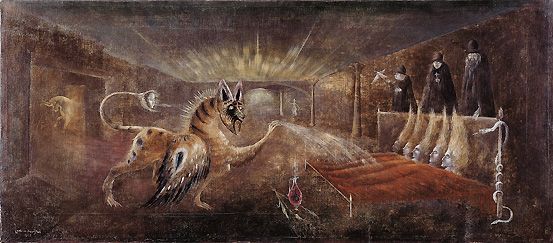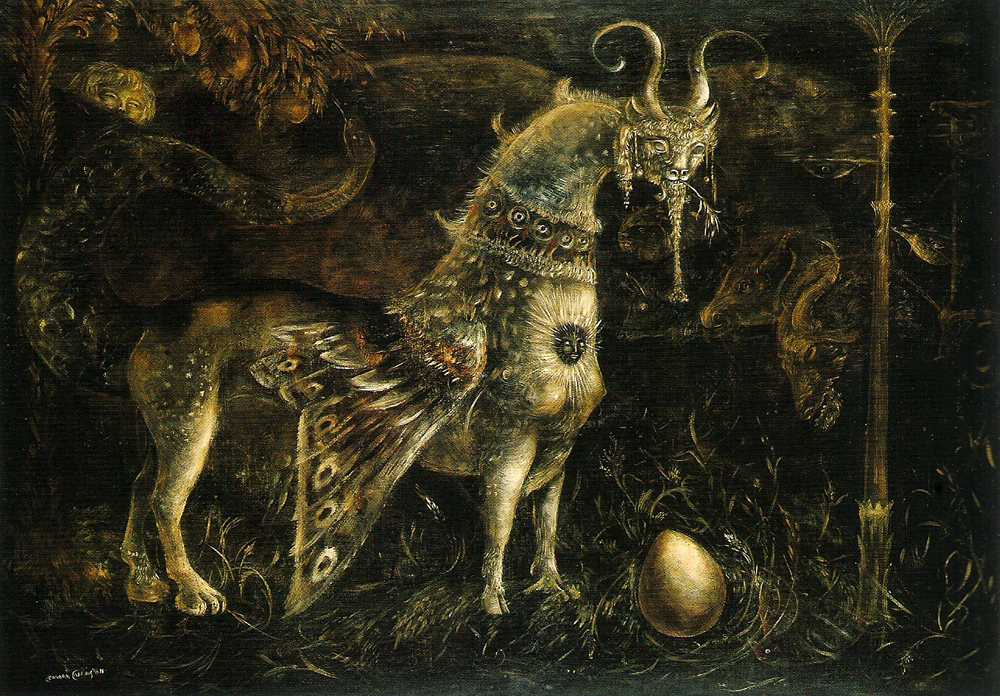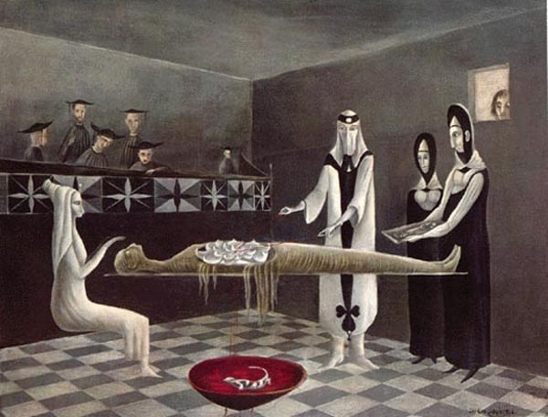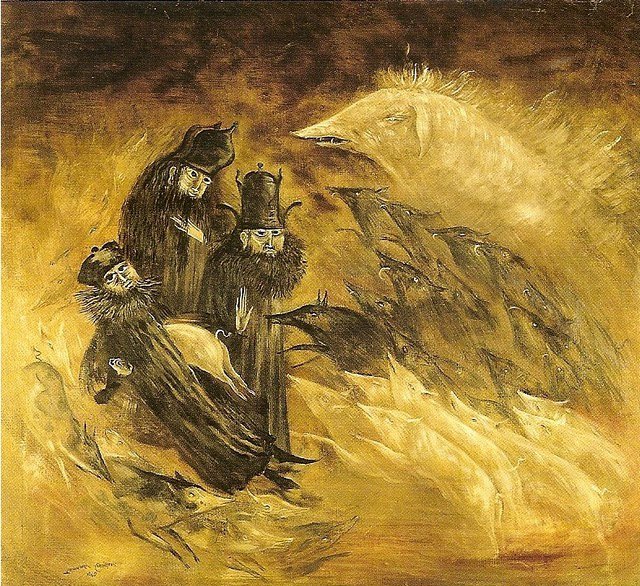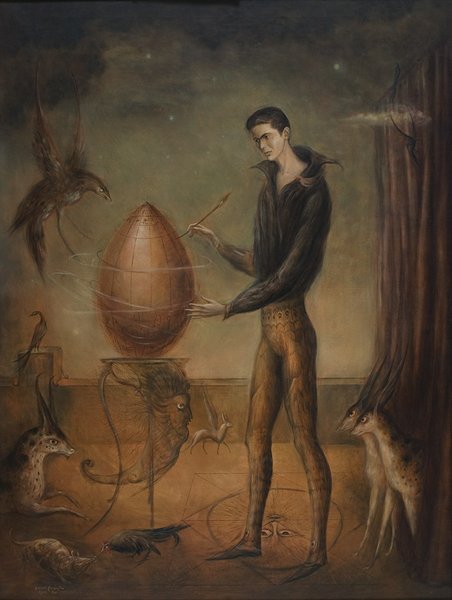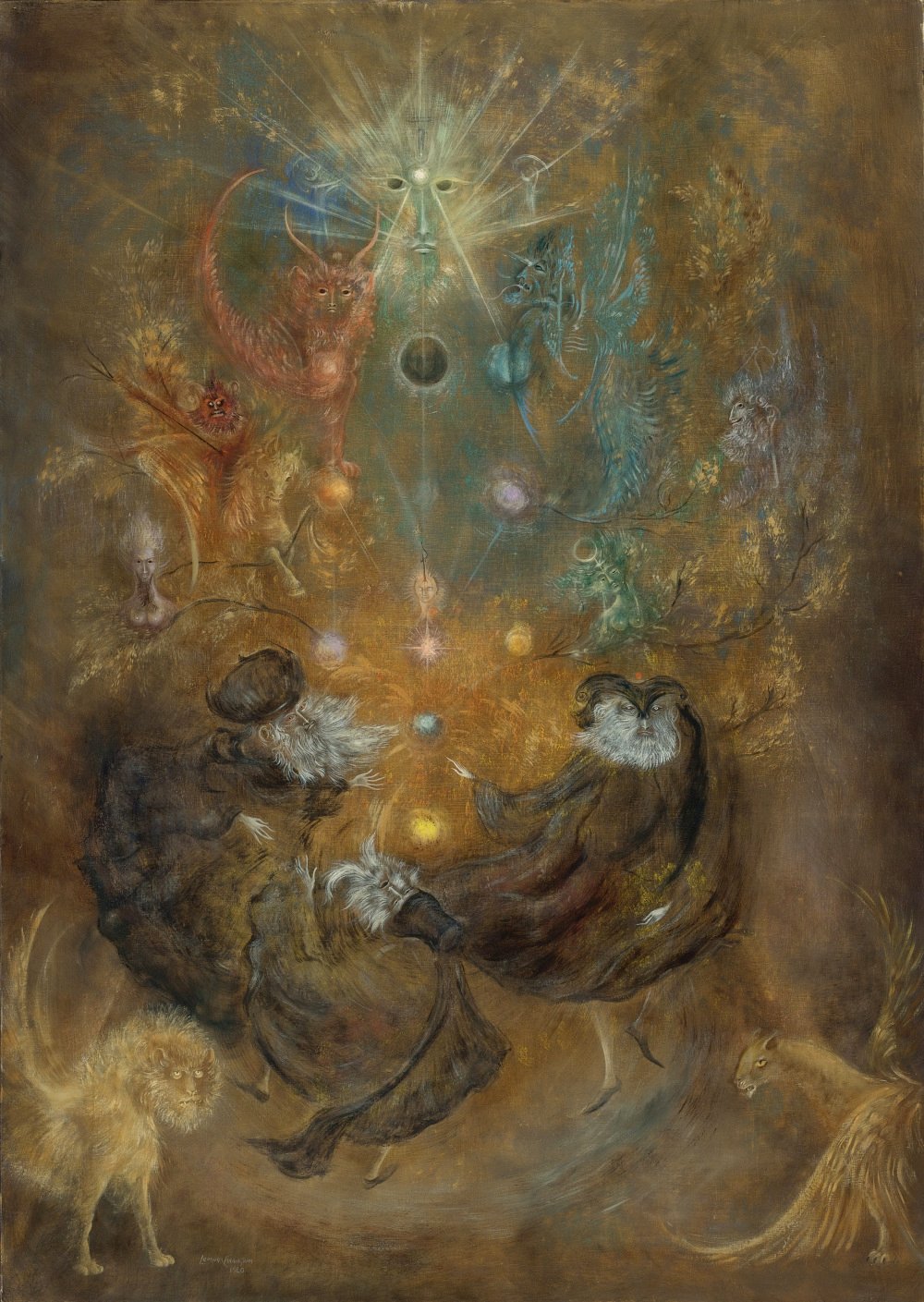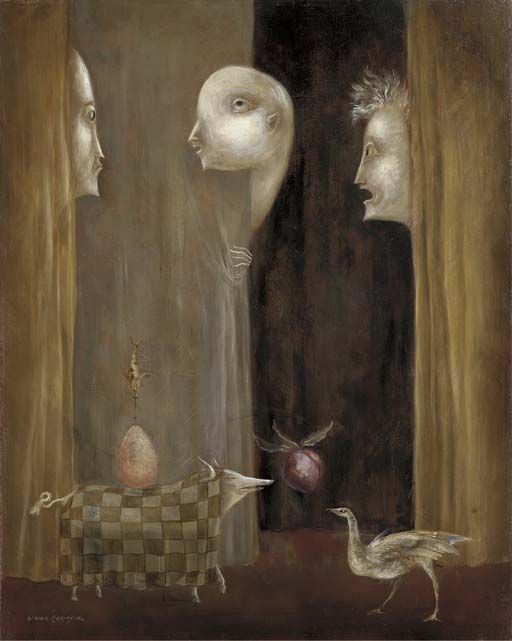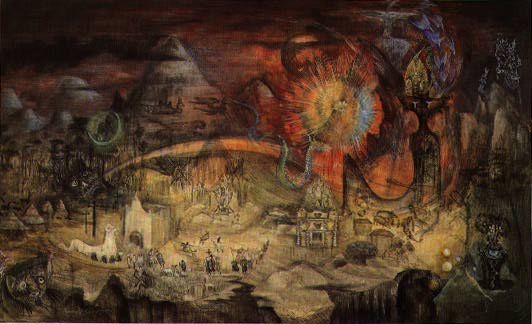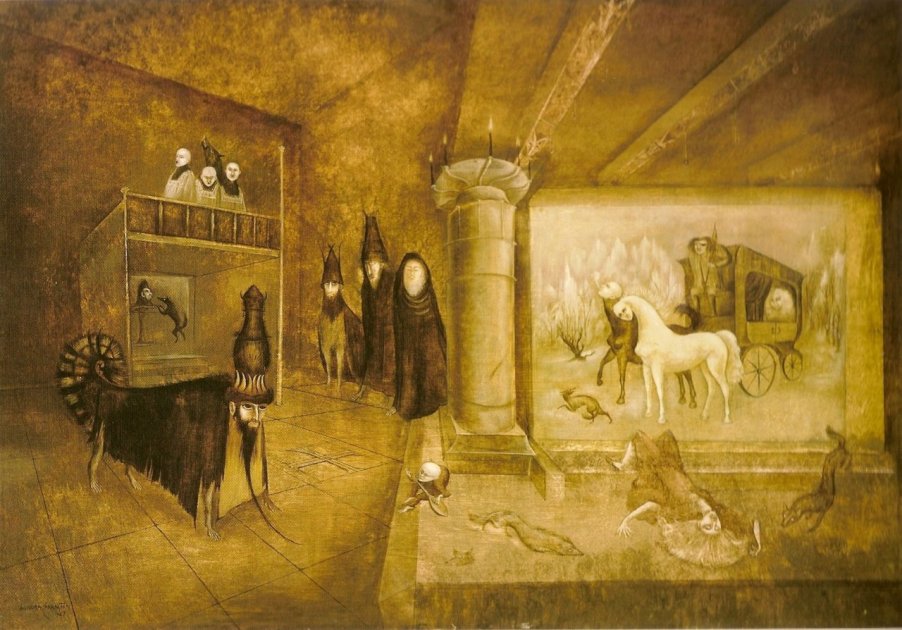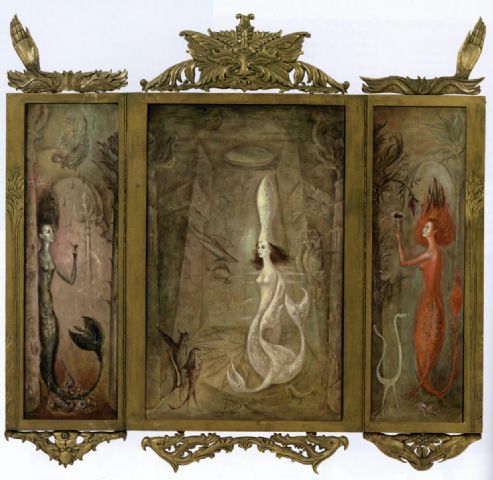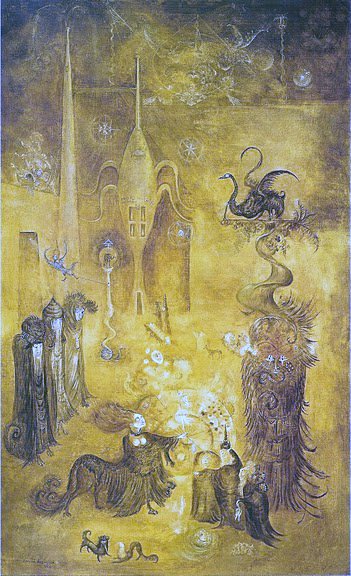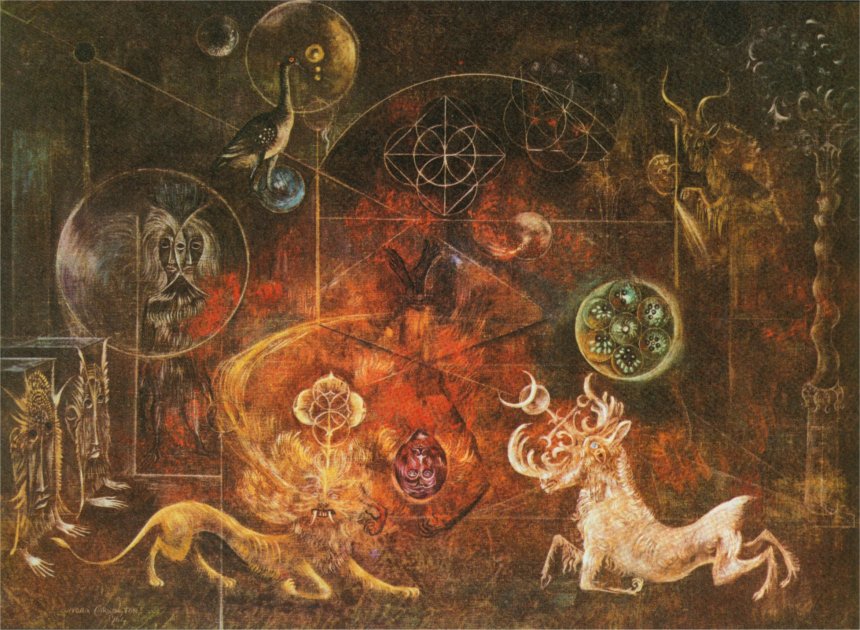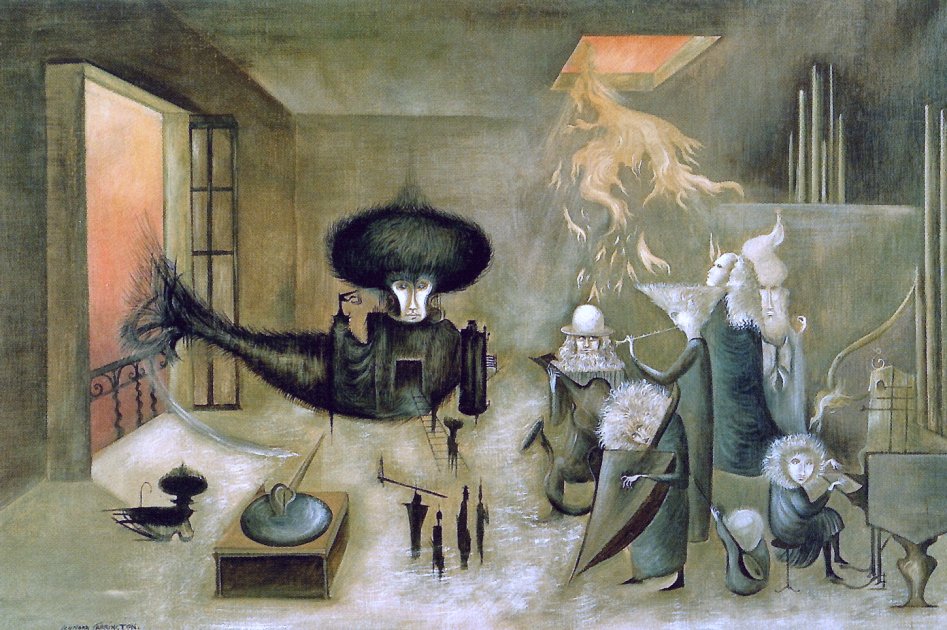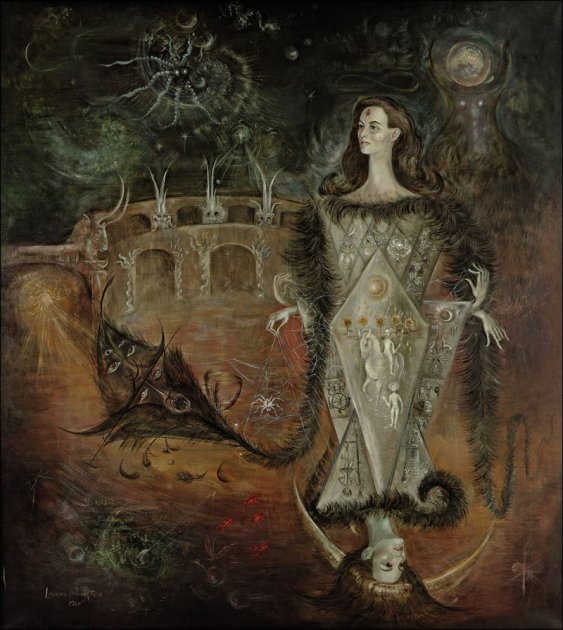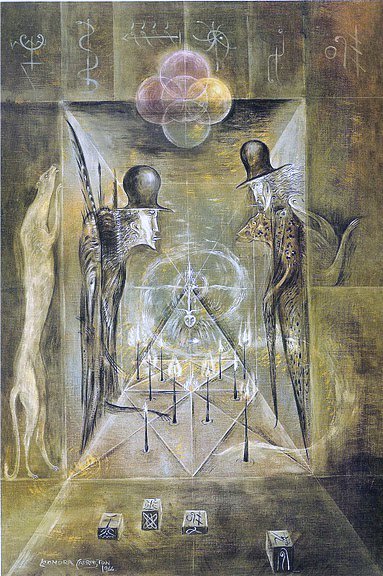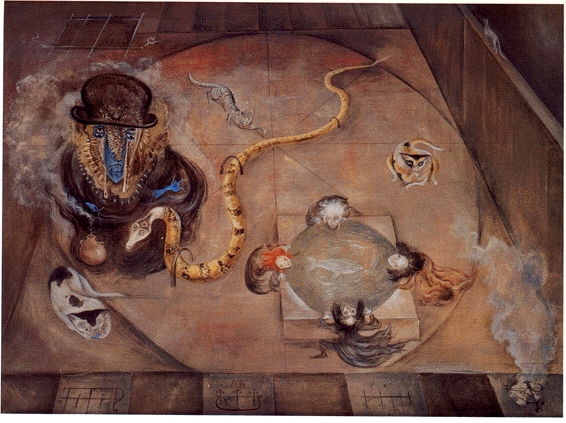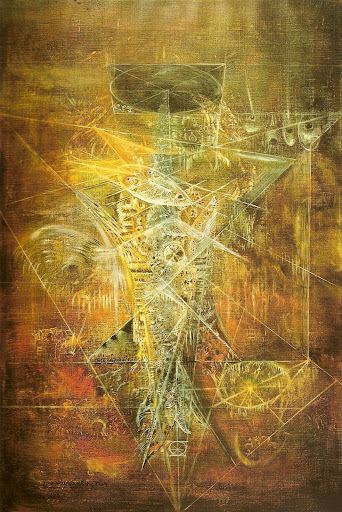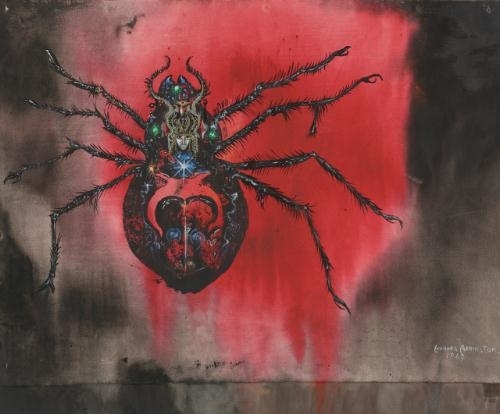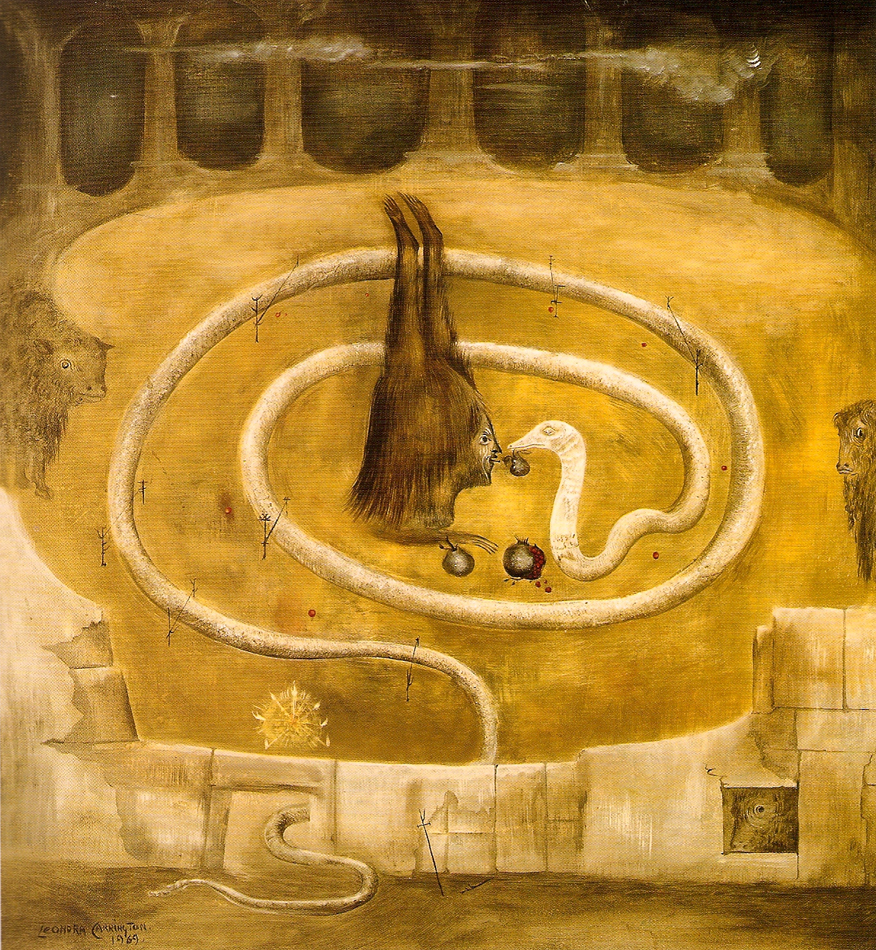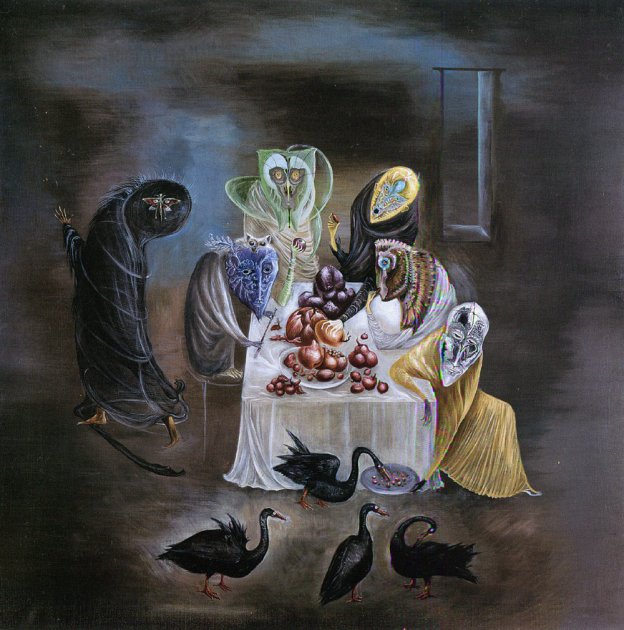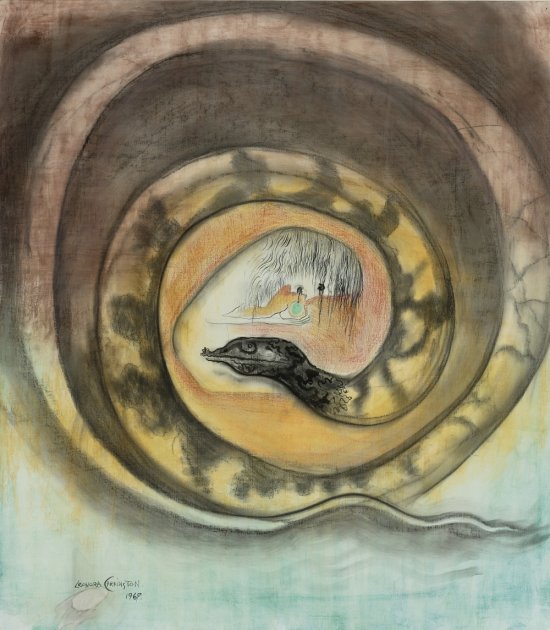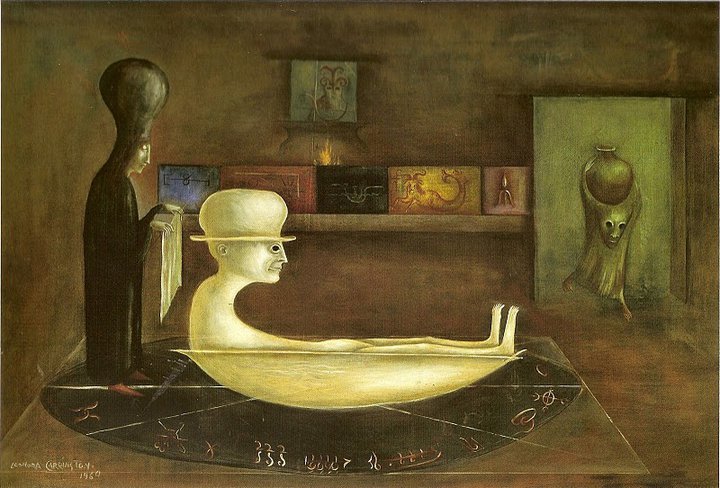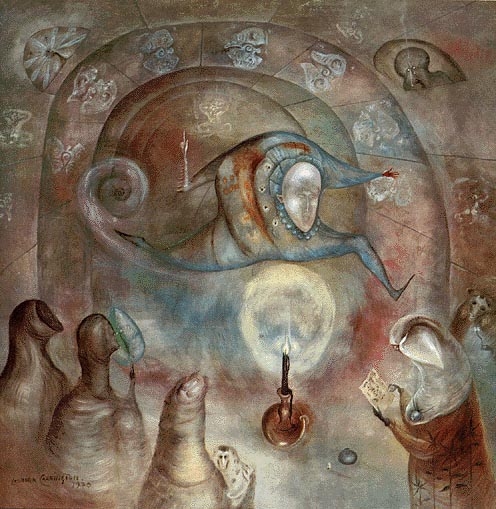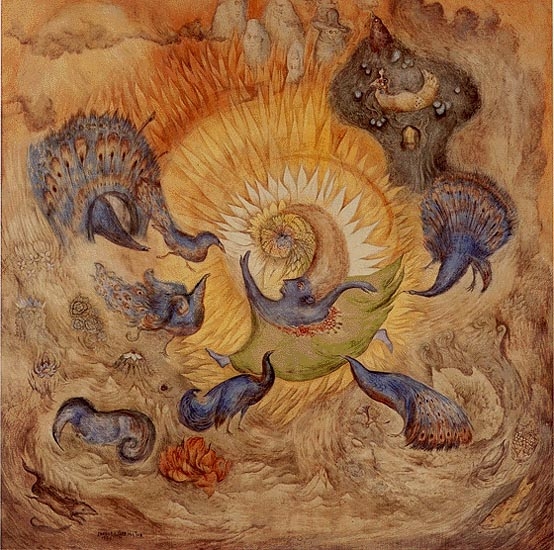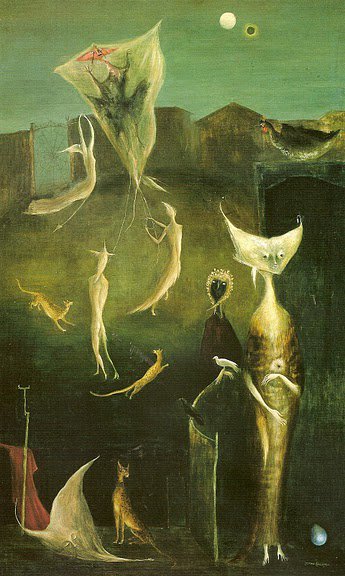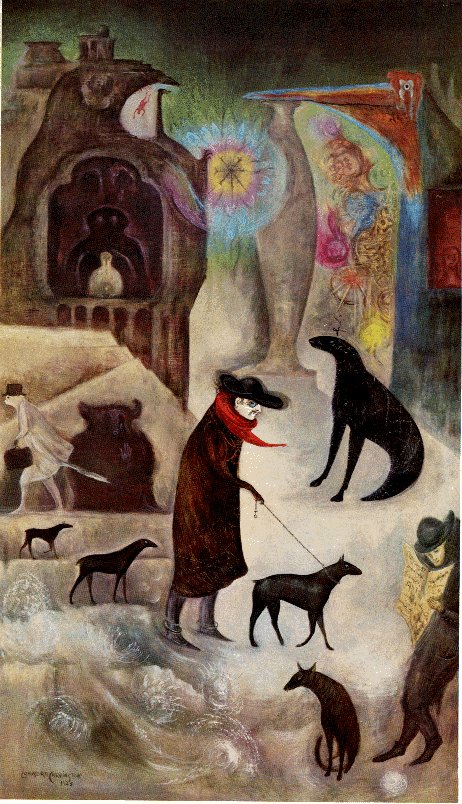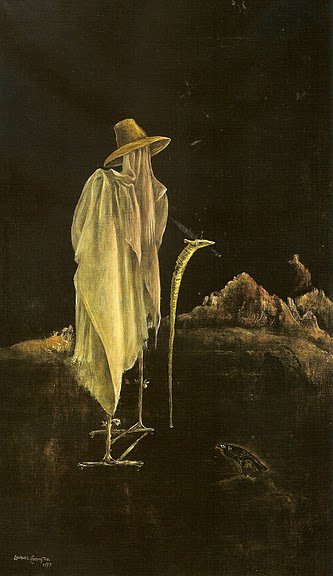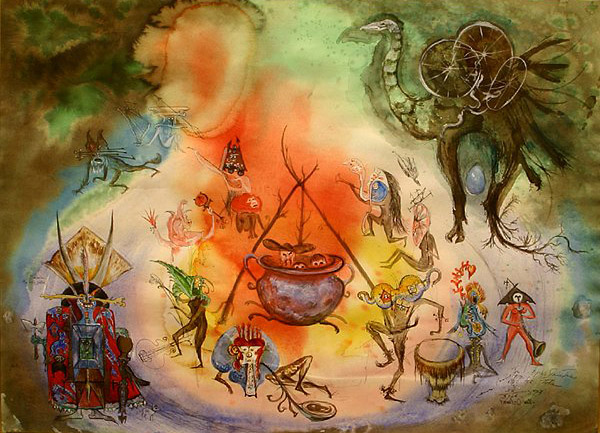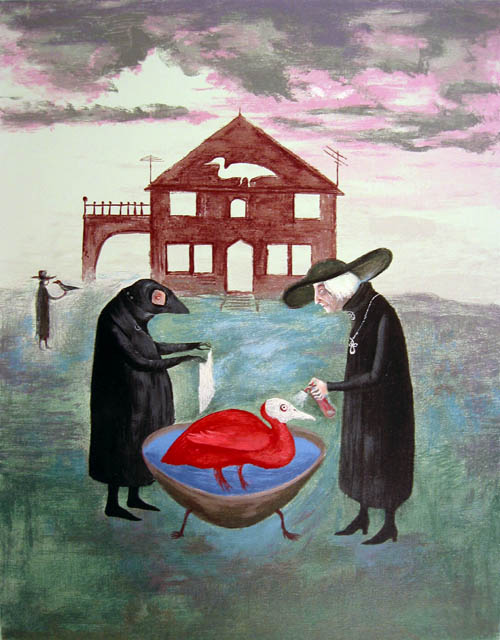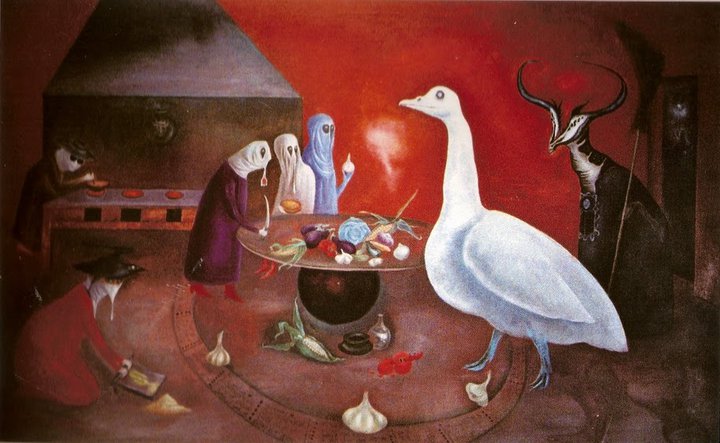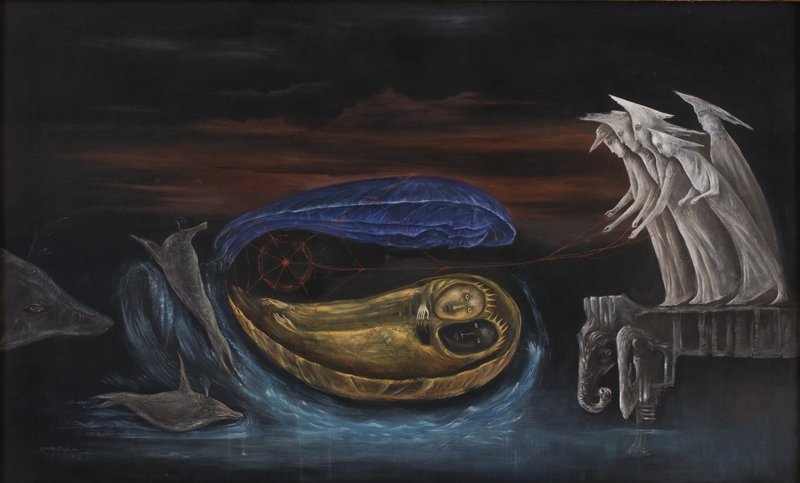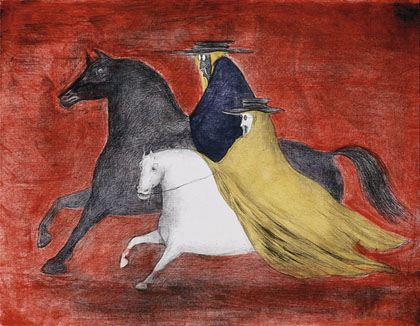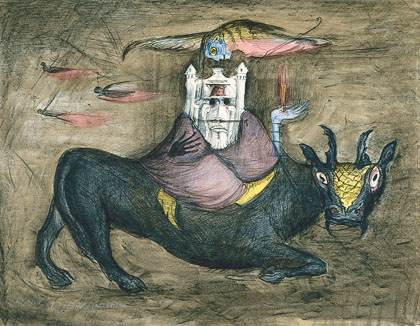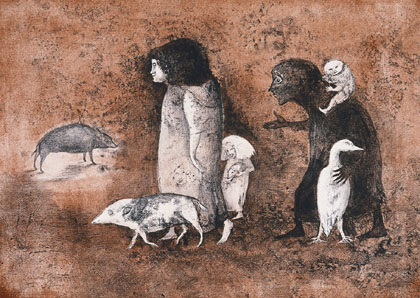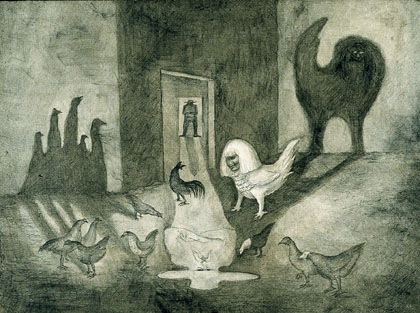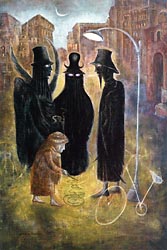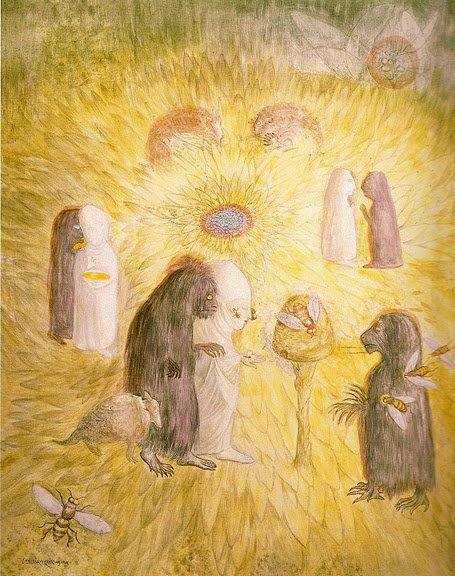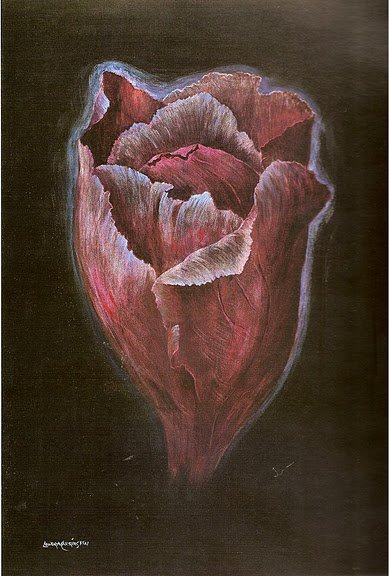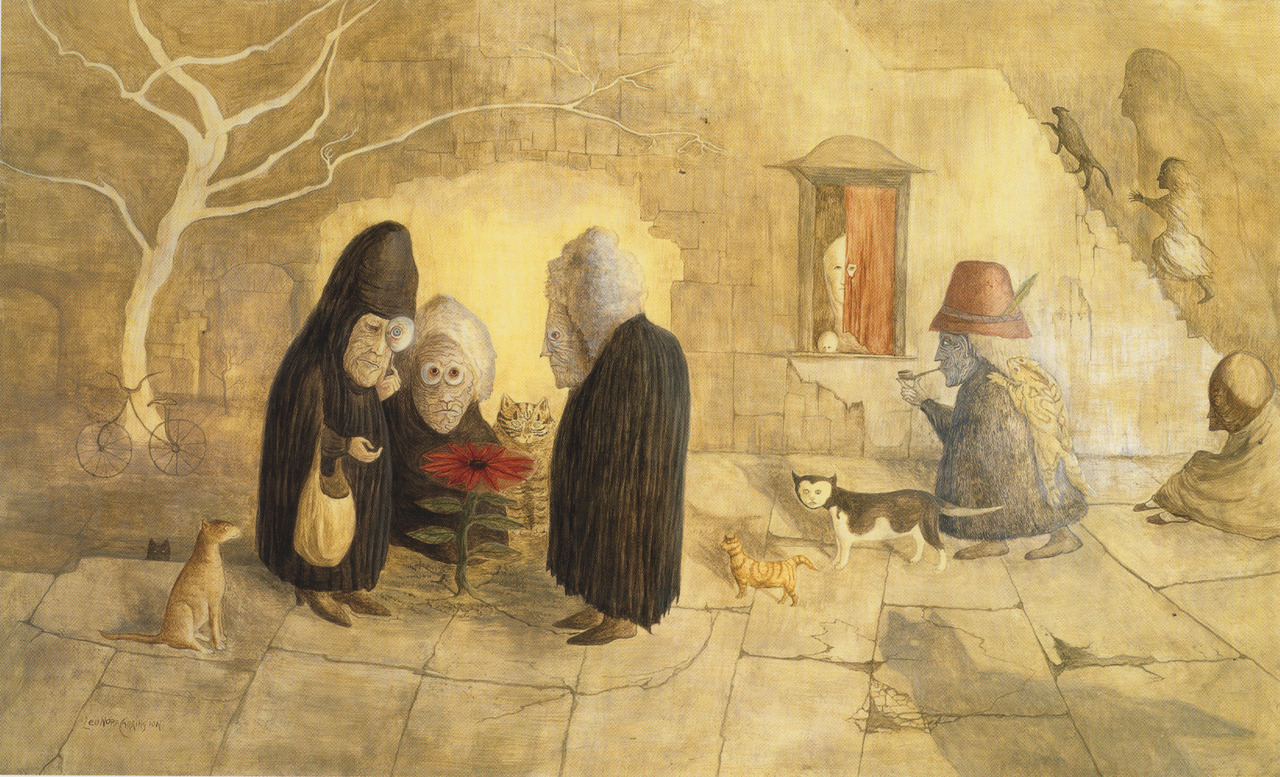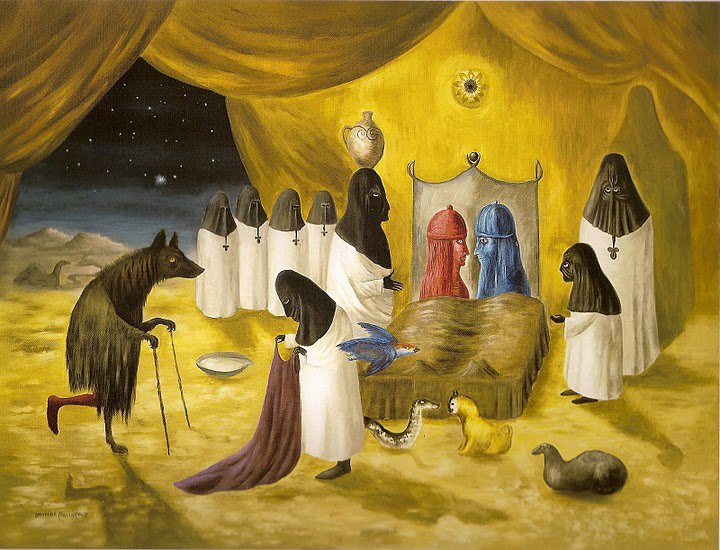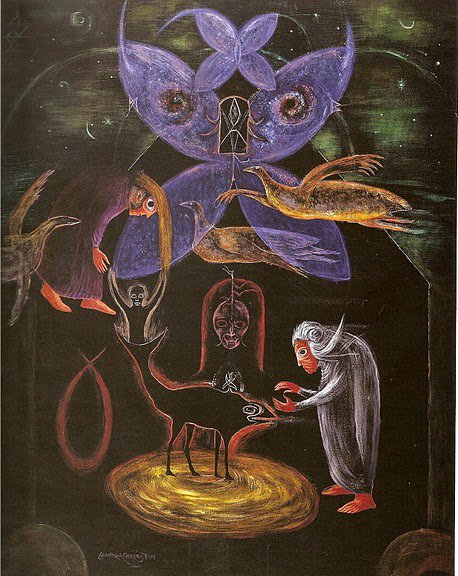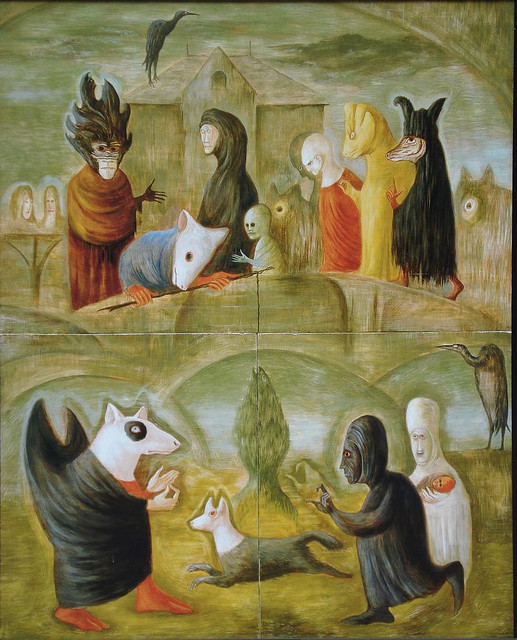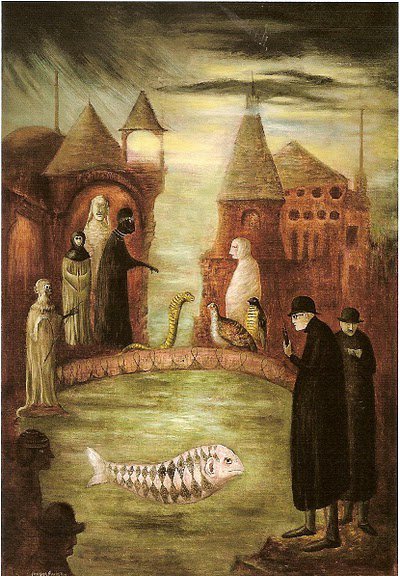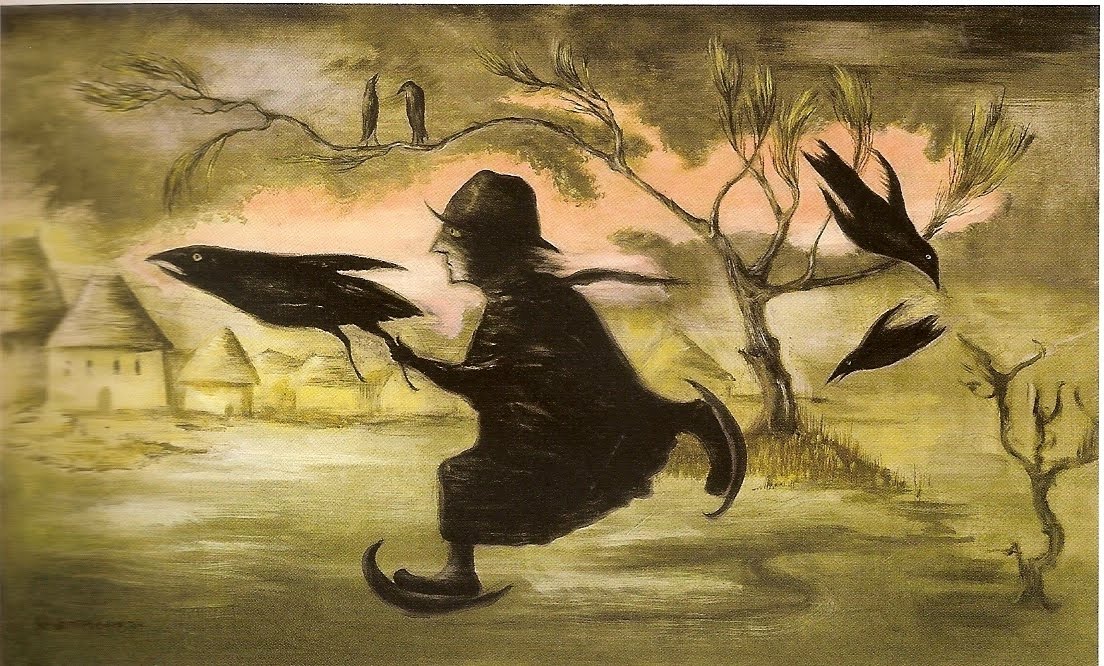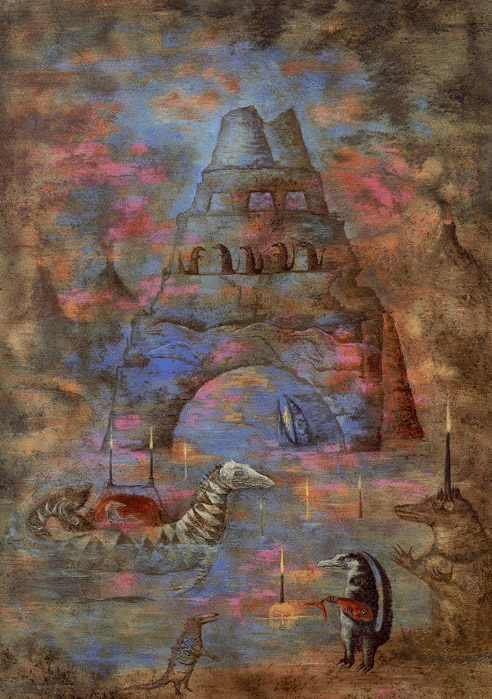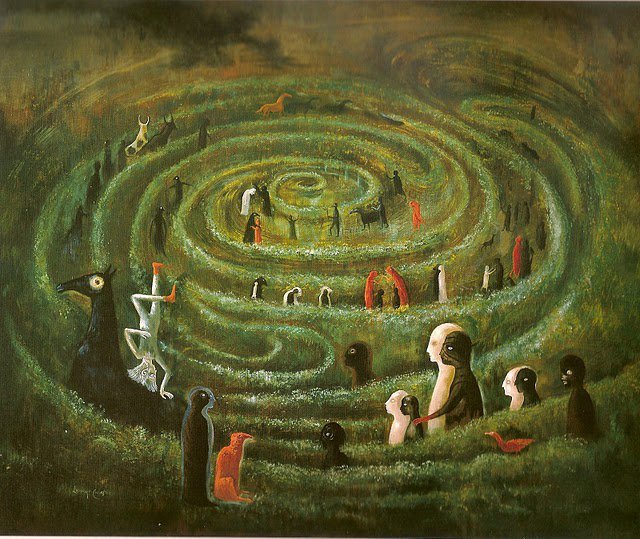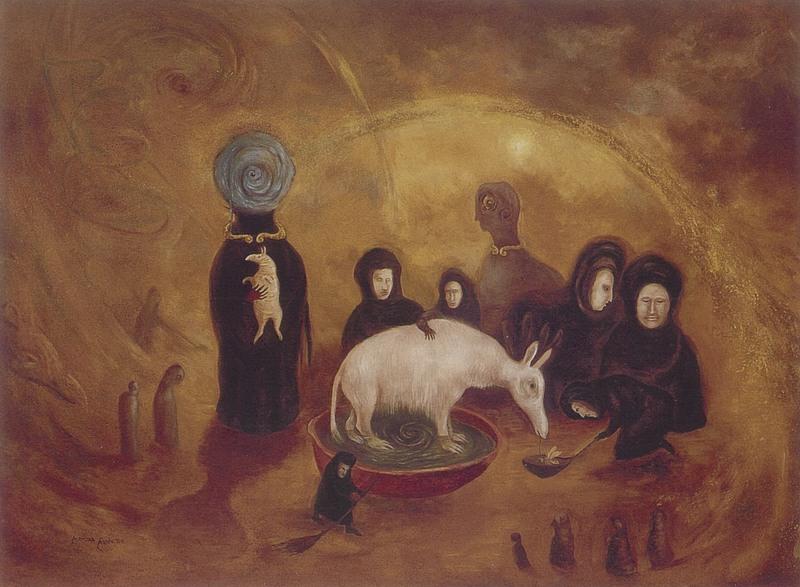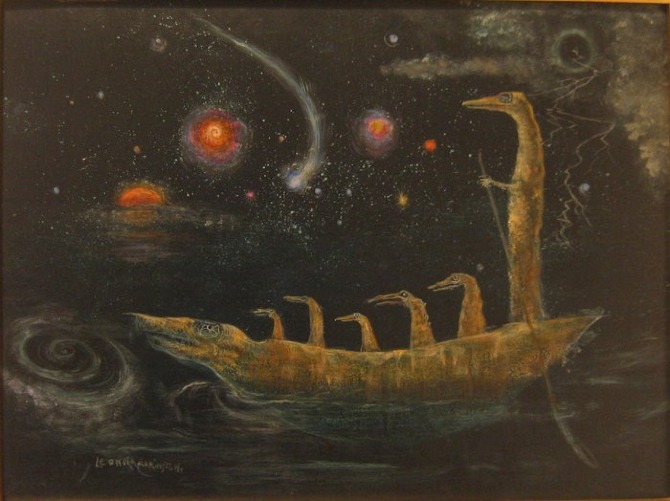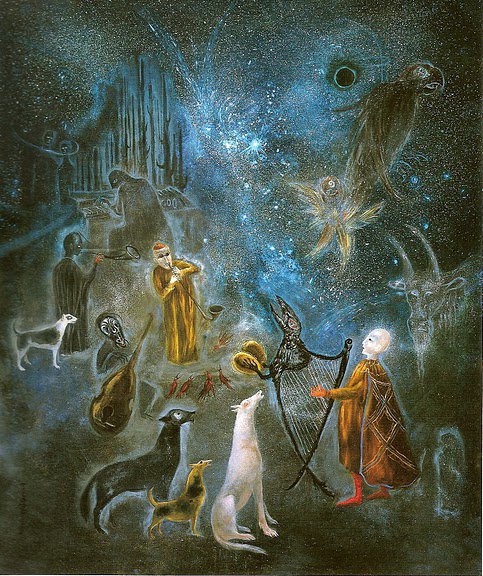 ---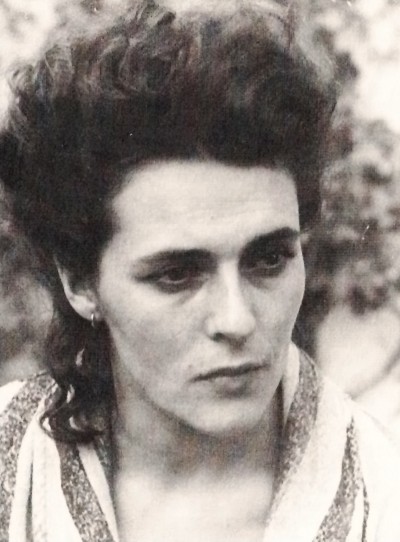 Leonora Carrington was born into a wealthy landed English family living in a large mansion Crookhey Hall. She was a rebellious child and had an interest in art from an early age. In her late teens she studied art privately with French Cubist Amedee Ozenfant where she learnt the formal techniques of painting in a highly disciplined way.
In 1936 she came across Herbert Read's book on Surrealism which included an illustration of Max Ernst's 1924 painted construction, 'Two Children Are Threatened by a Nightingale'. This had such a profound impact upon her that she wanted to create art in that style.
A year later she was invited to a dinner party at which Max Ernst was the main guest. They were immediately attracted to one another. A few weeks later she left Britain for Paris and moved in with Ernst. She there met most of the Surrealist circle and she began painting seriously.
One of her earliest surrealist pieces is her 'Self Portrait' in 1937, subtitled 'The Inn of the Dawn Horse'.
They moved from Paris to a villa in the village of St. Martin d'Ardeche in Southern France close to Marseilles. There they had a short period of intense creative work before they both began to get caught up in the consequences of the beginning of the Second World War. During that time in early 1939 she also created another key work, her portrait of Max Ernst.
Ernst was first rounded up as a German alien, and passed though a number of disturbing encounters with the authorities, both French and German. Carrington, being abandoned, was under considerable stress and left France for the safety of Spain. Her behaviour there showed such a degree of disturbance that she was placed into a Mental Hospital in Santander and given some rather severe drug treatment. The painting, 'Down Below' which she made in 1941 reflects her experience. She also wrote about it in a surreal novel of the same title.
She escaped the hospital and fled to Lisbon in Portugal where she knew the Mexican Ambassador, Renato Leduc. He gave her sanctuary and quickly married her, thus giving her diplomatic immunity and making it possible for her to leave for the USA in 1941. While still in Lisbon she met up with Ernst who was then living with Peggy Guggenheim, however, though still friendly to him, Carrington saw the relationship as ended.
She moved to New York with Leduc where he worked for a while at the Mexican Embassy. There she met up again with the exiled surrealists. In New York Ernst was still trying to reawaken the relationship with Carrington, but she did not want to re-open a romantic attachment with him. As we have seen Ernst was still infatuated with her and often referenced her in his paintings of that time. Carrington's painting 'Green Tea' was created in 1942 while in New York.
In 1943 she moved to Mexico with her husband Leduc. Mexico's left leaning government of that time admitted many European refugees from the war, even granting them citizenship. In Mexico city Carrington found herself within a small community of artists and intellectual, including Remedios Varo and her husband Benjamin Peret, Kati Horna the photographer, as well as circles around the Mexican writer Octavio Paz, Diego Rivera and Frieda Kahlo. She began to devote her time to painting and writing.
She immediately seems to have found her mature style as we see in the 'Distractions of Dagobert' of 1945. This shows her immersion in Celtic mythology. Dagobert II was a seventh century Merovingian King. While a young prince he was captured and sent to Ireland, where he was supposed to have married Mathilde a Celtic Princess. His life is interwoven with legend and myth. Carrington here creates one of her complex paintings presenting a number of tableau depicting what she saw as elements in the myth of Dagobert and his Celtic wife.
In addition to Celtic mythology Carrington was deeply interested in esotericism, alchemy, magic, and all things occult. She shared this with Remedios Varo whom she met and discussed art and ideas almost every day. Indeed, the unofficial 'headquarters' for the European Surrealist émigrés was the apartment of poet Benjamin Peret and Remedios Varo on Calle Gabino Barreda.
Leonora became attached to Hungarian photo-journalist Emerico Chiki Weisz, who, being Jewish, had also fled Europe. They married in 1946, and in 1947 created 'Chiki, Your Country' another of her paintings full of interwoven tableau. Carrington rarely commented on her work so one has little clues from her, herself, but this painting obviously interweaves aspects from the difficult lives of both Chiki and herself, with her wider philosophical and spiritual interests. Thus, for example we see some small tableau at the bottom right which may reflect alchemical imagery.
Carrington is such a major figure and her artwork is often dense and full of complex references.